Evinrude & Johnson Service Essentials
We have designed a package of must have resources for the average Johnson/ Evinrude owner. This package includes the essentials for service and repair work as well as troubleshooting, electrical systems, wiring diagrams, parts catalog access, engine diagram access, owners manuals and a multitude of technical and informational resources that only OutboardExpert.com mechanics and contributors can offer in one convenient package.
$5.99

You will be directed to the download site after payment.
This Digital Package Includes:

Evinrude & Johnson Engine Diagrams/Parts Catalogs
Access to 1968-2015 Searchable, Zoom Enabled and Printable Exploding Engine Diagrams for All Models

Access to 1968-2015 Searchable, Zoom Enabled and Printable Parts Catalogs for All Models

Find Your Part, Then Order Your Part, A Must For Every Owner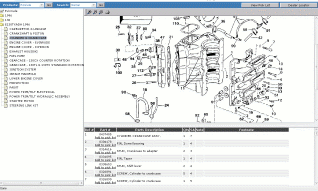 Evinrude & Johnson Comprehensive Model Number Guide
The Most Comprehensive Johnson/Evinrude Model Number Guide Available Anywhere!

Can't find the year of that old engine, and all you have is the model number? Look no further, this guide includes model numbers and years for almost every Evinrude/Johnson outboard ever made.

Includes Model Number/Years for Most:

Evinrude/Johnson Outboards 1913-2005

OMC Sea Drive Outboards

OMC Zephyr Sail Drives

OMC Stern Drives 1964-1993

OMC Inboard 1970-1982

Commercial Outboards 1977-2005

TurboJet Engines

Racing Outboards 1967-1995

Electric Outboards 1974-2001

Gale Manufactured Engines 1941-1963

Military Outboards 1980-2005

Snowmobiles

Trailers & Diving Units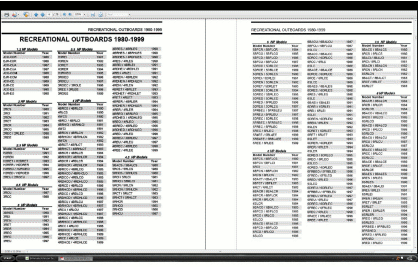 Evinrude & Johnson Owners Manuals
Includes Access to All 2004-2015 Model Years Evinrude/Johnson Engines

Owners Manuals are Printable, Indexed and Searchable

Electrical & Ignition System Troubleshooting Manual
Extensively Covers Electrical/Ignition Systems for Most Evinrude Outboards

Includes Detailed Wiring Diagrams

Includes Extensive Troubleshooting, Over 200 Pages Long.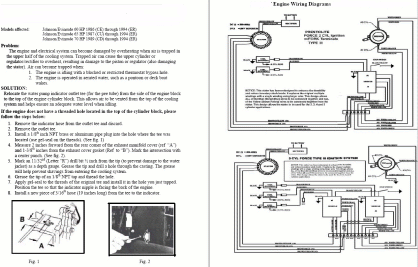 Basic Troubleshooting and Tips Guide
Includes Basic Troubleshooting Techniques for Evinrude/Johnson/OMC Engines

Includes Professional Tips for Maintenance and Operation of Outboard

Troubleshooting of Battery and Ignition System

Boating Techniques, Safety and Information Software
This software is the first and last resource for on the water boating techniques

Includes Boating Checklists

Includes Safety Information and Emergency Procedures

Thousands of pages of boating techniques, tips and procedures for on the water and off the water outboard/inboard operation

"Know Your Outboard" eBook
Includes General Outboard Information, History and Buying Advice

Wiring Color Code Chart
A Color, Printable Wiring Color Code Chart allows for quick reference when servicing your outboard. No boat should be without one.
$5.99

You will be directed to the download site after payment.